VirtuaWin is a simple, easy use yet still highly configurable and extensible virtual desktop manager.
VirtuaWin is handy utility software that offers an elegant solution to organize your application over several desktops. The program can create multiple versions of your desktop where you can run different programs and switch between them when needed, as Unix users know for some time this useful way to manage applications. VirtuaWin lets users create up to 20 different, highly customizable virtual desktops and work on most Windows operating systems (Win9x/ME/NT/Win2K/XP/Win2003/Vista/Win7/Windows8). With a simple, intuitive yet attractive interface, VirtuaWin becomes an essential part of your productive workflow, offering many interesting features and highly customizable and extensible options.
Editor's review:
VirtuaWin is a professional solution when it comes to organizing your work over several desktop environments. It will increase your productivity with its many customization options and especially with its purpose by helping you to organize your tasks and accomplish them according to their priority level.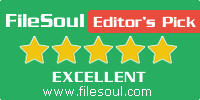 What we like:
It has many customization options and comprehensive features;
It increases the productivity by helping to establish and solve priority tasks when sharing workflows;
It is very easy to setup and configure.
Our suggestion:
We suggest
To help users to understand better how to learn to use it and also to help them understand the desktop sharing concept.